Miami's
Best Commercial Metal Roofing Contractors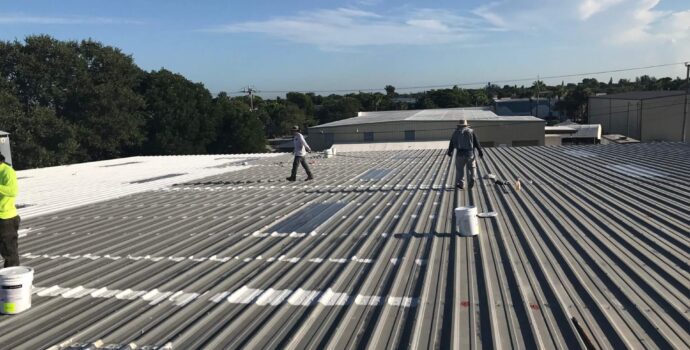 So you're running your daily business operations and suddenly, you experience leaking from your roofs. At first, you thought it was from a different source but upon looking at it closely, it was indeed from your roofs.
You think about contacting your local Metal Roofing Contractor to help you with your dilemma. You tell them the situation and they tell you that they'll need a schedule for it. How can you go about running your business if there's a leak from the roof? What are the options you have available?
If this happens to you, don't ever work with your Metal Roofing Contractor again because as businesses themselves, they are well aware of how important having everything fixed is to run operations. Should you be anywhere here in the city of Miami, Florida, you can bank and count on us here at Miami Metal Roofing Elite Contracting Group for all the Commercial Metal Roofing needs you to have.
Who Are We?
Miami Metal Roofing Elite Contracting Group is the company that has been built from just being a local Metal Roofing Repair Company that expanded and became Miami's #1 option for all the Metal Roofing Service needs of businesses and commercial entities.
Our services aren't just limited to repair, though, as a matter of fact, that's just one of the many things that we can offer you. When you work with us, we can help you with a lot of different services, including:
Metal Shingle Roofs Installations, Repairs, and Replacements

Stone-Coated Steel Roofing installation, Repairs, and Replacements

Corrugated Metal Roofs Installations, Repairs, and Replacements

Re-Roofing (Retrofitting) Metal Roofs

Tapered Panels Metal Roofing Installations, Repairs, and Replacements

Standing Seam Metal Roofs Installations, Repairs, and Replacements

And Many More!
You can actually work with us not only under those categories – we offer an awful lot more services that you can positively enjoy! Visit our website to check out the complete and full list of Metal Roofing Services that we can help you with!
Why Work With Us?
If there are other Metal Roofing Contractors catering to the commercial and the business market in Miami, why should you choose us? What difference can working with us get you? Going back to the dilemma earlier, we value your time and your business – and therefore, you can expect the following benefits if you choose to work with us.
No Need to Pause or Suspend Operations
When you work with us, we can give you the assurance that you wouldn't be required to close your business just because we'll be working on your roof. The speedy delivery and the fast-paced response that we have will absolutely be for you and for your business's benefit.
Miami Metal Roofing Elite Contracting Group operates with servicemen and Metal Roofers and Experts that are committed to providing high-quality skills and expertise in Metal Roofing Systems and Services.
Fast and Urgent Response and Delivery
When you call us, we will be right where you need us, given the fact that we have sufficient and all the needed information about your roofing system. We would never delay the assistance that we can give and provide you because we fully understand that you wouldn't be able to operate well if you have a faulty roofing system.
You can expect us to be there 101% of the time! You don't have to ask for the opinion of other roofers because all our staff members and our servicemen are prompt and urgent!
Free Roof Inspection
Among the many advantages of working with us would include the Free Roof Inspection facility that we have live on our website. This roof inspection is far from the typical and the regular inspection that you can get with other companies.
Miami Metal Roofing Elite Contracting Group's Roof Inspection is a complete and comprehensive tool that can help you identify what's wrong with your roofing system as a whole. You wouldn't have to rely on other forms of assistance because the inspection system that we have will be more than what you've been asking for!
High Quality of Metal Roofs
Of course, we wouldn't be dubbed and known as Miami's top Metal Roofing Contractor if we provided low-quality metal roofs, right? In fact, that's one of the priorities we have on a daily basis – how would we be able to give our clients better and higher quality metal roofs.
You can bank and count on us if you're looking for 26 or 24-gauge panel roofs, or if you want an added touch of design and style to your roofs! We are on a daily journey to enhance, improve, and develop the products and the services that we're offering.
Overall, we will be the Metal Roofing Contractor you've been dreaming to work with. Never will you be able to encounter another company that provides the same level of services as us here at Miami Metal Roofing Elite Contracting Group.
Don't hesitate to Contact Us
Whether you're part of the industrial sector or just the commercial industry, and you've experienced nuisances with your roofs, don't think twice about contacting us here at Miami Metal Roofing Elite Contracting Group.
We will be more than happy to help you with whatever you need! We will be providing you with a free quote, a free roof inspection, and the best quality of Commercial Metal Roofing Solutions you will ever get in the city of Miami!
Work with Miami Metal Roofing Elite Contracting Group! Give us a call, send us an email, or visit our website to know more information about us and to get in touch with our team! Get the Commercial Metal Roofing Services you need without compromising the operations that you're undergoing!
Our Metal Roofers and Metal Roofing Specialists and Experts here at Miami Metal Roofing Elite Contracting Group will be able to complete the services you need in a jiffy! Don't waste time, money, effort, and thought in working with other Metal Roofing Contractors!
Time to Replace Your Roof? We Can Help
Considering roofing replacement? When it comes to roofing projects, many homeowners rely on professionals to get the job done. At Miami Metal Roofing Elite Contracting Group, our specialists stick to all the industry standards when installing metal roofing on both residential and commercial properties. Therefore, you can be sure of getting a sturdy roof on top of your house. As a result, you can get the best services from our company in the following fields;
What Locations do we Serve?
Miami Metal Roofing Elite Contracting Group is a name you can trust and rely on. Our metal roofing services were limited in Miami, FL when we started. But with time our company has expanded and is now serving over ten locations within Florida.
It shows how reliable we are. Here are some places within Florida, where you can access our world-class metal roofing services: –