Miami's
Standing Seam Metal Roof Installation Team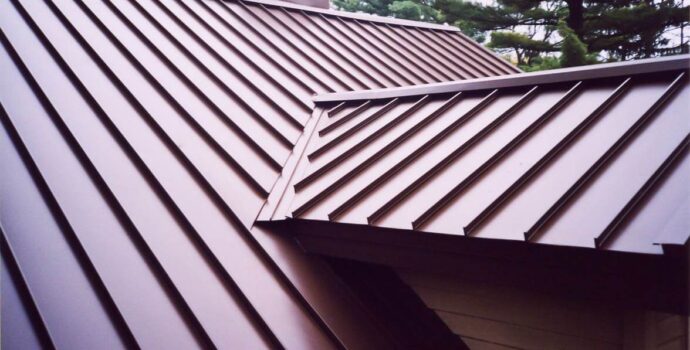 The influx of people wanting and wishing to have a more fashionable, aesthetic outlook in their house has certainly increased through the years. Elaborate and stylish designs or even just simple ones are among the popular ones.
Because of this, Standing Seam Metal Roof became one of the more known roofing types in demand. Why so? It is also available in different materials, which you could tailor according to your needs or desires.
What is a Standing Seam Metal Roof?
This type of roof is comprised of vertical panels and seams that connect one panel to another. It creates dramatic shadow lines that accentuate the pitch and plane of every roof angle. The panels may sometimes run in a trapezoidal direction with a flat space in between. Moreover, the panels interconnect to the roof deck with clamps. This thereby prevents the risk of having any holes through which moisture could seep in.
In addition to that, there are other profiles of this roofing system available; among the most common ones used in the industry include:
Double Lock
One Piece Snap Lock
Two-Piece Snap Lock
Symmetrical Seams
 Benefits of Standing Seam Metal Roof
Contrary to what most people believe in, they are extremely durable and long-wearing. Traditional styles of roofing, more often than not, may feature gaps in tiles or flush seams. This in turn may lead to leakages. But with this kind of roofing system, you would not have to worry. The panels have been secured together snugly, and the raised seams feature a heavy endurance against the elements. May they be heavy rainstorms or not.
Standing Seam Metal Roofs do not rust or fade under the sun. They are also capable of lasting up to more than 40 years. In the decades you'll have this installed, they are luckily low maintenance.
You may also have them customized. The colors come in a wide variety as well as the materials that can be used. You will be able to tailor its appearance to your desire. These are also leak-proof. Because of its long panels, possible weak spots and entry points can be avoided.
Disadvantages of Standing Seam Metal Roof
Its biggest drawback is the installation. Not many know how to properly install metal roofs. But here in Miami Metal Roofing Elite Contracting Group, we ensure to train our staff and create expertise in any of our available services.
This is so we could gain the customer's trust regarding our company and its services. Another one is that Standing Seam Metal Roof is not suitable for flatter roofs. So if your roof has a rise of fewer than 2 feet per 12 inches, you may opt for different roofing material. Standing Seam Metal Roof costs more than traditional roofing as well. The usual cost for it is between $8 and $11 per square foot.
Installation of Standing Seam Metal Roof
No previous metal roofing must remain during the process of its installation. Unlike asphalt shingles, Standing Seam Metal Roof cannot be layered on top of one another.
First, the eaves are trimmed. Flashing is done to penetrations along the roof including the edges. Once finished with the trimming, the underlayment is applied to the entire roof. The panels then begin at the brink of the roof and work from one side to the next. Each panel is designed to either latch to the following one, or fasteners are used to link the panels together. This is what helps secure the inside out.
Maintenance and Repair
When it comes to maintenance, this roofing system is not requiring. Some companies even endorse their products to be maintenance-free. With Miami Metal Roofing Elite Contracting Group, you won't have to worry about maintenance and repair!
We certify that we properly install the metal roofing. So the runtime and hassle of maintaining and repairing is relatively low or even no chance at all! This will save you time, and it is cost-efficient. The maintenance you may only need is the occasional cleaning of the roof. Repairs may even be made without the removal of the rest of the roof. Especially if it is only one or a few panels damaged. Keep in mind that every roof is built differently. Make sure to speak with the company first.
Luckily, with Miami Metal Roofing Elite Contracting Group, we do our best to communicate with our clients first. This is so misunderstandings and errors would be avoided to the best of our abilities, so to speak.
Cost of Standing Seam Metal Roof
Standing seam costs will have to be inspected to estimate the installation cost. Make sure to include delivery, underlayment, counter flashing, soffit and vents, stack covers, and fasteners upon quoting the cost of a metal roof. For example, standing seam 29 gauge 12" will have an approximate cost of $2.45 per linear foot while the 29 gauge 16 panel is near $2.75 per linear foot.
A complex installation may include an additional 10 percent due to material and labor costs. Standing Seam Metal Roof is on the rise. Especially when you consider its durability, lifespan, aesthetic, solar protection, and how low-maintenance it is. It may be costly at first, but it will surely last you a long time.
Quality Standing Seam Metal Roof Services
At Miami Metal Roofing Elite Contracting Group, we offer quality Standing Seam Metal Roofing. It is certainly difficult to find companies that will not take advantage of you. However, in Miami Metal Roofing Elite Contracting Group, we are pleased to tell you that we remain first in our clients' hearts and minds. We ensure you avail your money to its utmost extent with our services.
Communicating with our clients has always been a protocol in our company. We strive to be the best in the roofing industry. To do this, we showcase our efforts and expertise in any installation or maintenance/repairing process.
You, your money, and your family are safe with us here at Miami Metal Roofing Elite Contracting Group. So what are you waiting for? Contact us now!
Time to Replace Your Roof? We Can Help
Considering roofing replacement? When it comes to roofing projects, many homeowners rely on professionals to get the job done. At Miami Metal Roofing Elite Contracting Group, our specialists stick to all the industry standards when installing metal roofing on both residential and commercial properties. Therefore, you can be sure of getting a sturdy roof on top of your house. As a result, you can get the best services from our company in the following fields;
What Locations do we Serve?
Miami Metal Roofing Elite Contracting Group is a name you can trust and rely on. Our metal roofing services were limited in Miami, FL when we started. But with time our company has expanded and is now serving over ten locations within Florida.
It shows how reliable we are. Here are some places within Florida, where you can access our world-class metal roofing services: –