Miami's
Top New Construction Metal Roofing Contractors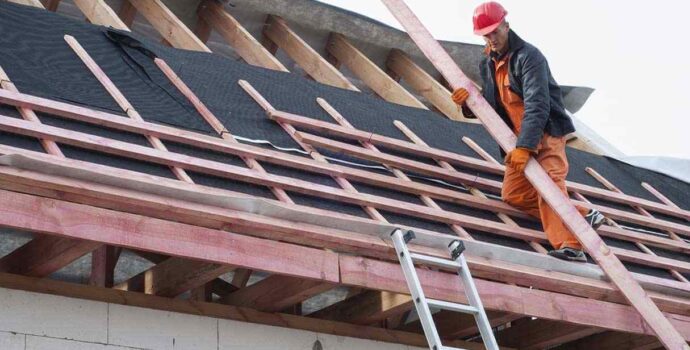 Little did we know that asphalt and clay roofs actually have a shorter lifespan and life expectancy than Metal Roofing Systems. This is because of the fact that we always prioritized thinking about the prices and the rates of how much we would need to spend on the installation.
But in reality, Metal Roofing Systems actually have a lot of perks and advantages than that of asphalt and clay roofs – and that it would actually help us save more money, time, and effort than choosing the traditional asphalt and clay roofs.
New Property? Choose Metal Roofs!
Do you have a new house being built or a new commercial property being constructed? Are you looking for the best roofing option available that would serve as a money-saver for you? In case you haven't considered it yet, you need to think of and consider Metal Roofing for your New Construction.
Not only is it durable and long-lasting, but it can also be the agent that can help you save a lot of money too.
Price of Metal Roofing
When we speak of the price, we only mean the installation. It's just the initial cost that you would need to settle in order to install and to have the Metal Roofing System in place. The price of metal roofs is undeniably the most expensive and the most costly of all. After all, it's known to be the strongest material that can be used for your roofing needs.
What most property owners fail to think about is the fact that the asking price of Metal Roofs is just the initial cost – not the entire time you would have the roof because, in actuality, a Metal Roofing System is the most cost-effective of all, as it will help you save a lot of money in the long run.
How Can You Save Money With Metal Roofing?
This would be the first question you'll have in mind – how can a Metal Roofing System help me save money if it requires me to spend three or four times as much as how I would need for the asphalt or clay roofs?
In a longer-term perspective, Metal Roofing Systems can be an effective way to help you save money; and it can do so through the following:
Comparing it to asphalt and clay roofs, Metal Roofing Systems would not need heavy maintenance. As a matter of fact, you can go about using it effectively for more than 20 years without the need for maintenance.
Asphalt and clay roofs would require you to maintain it at least once every three to five years; but with Metal Roofing, you don't have to think about it for more than 2 decades! It's actually one of the reasons why its price is lucrative in the beginning.
Contrary to what most people and homeowners believed in, Metal Roofs actually help in the management of heat and humidity around your home or your property. It's not actually a contributing factor to heat, instead, it helps keep heat out of the property.
Metal uses its properties to bounce heat and humidity back to the air, preventing it from entering your home or your commercial establishment. When it comes to saving money, you'll obviously not need to use air-conditioning units and other technologies that can help you with heat management – which means savings for your electricity bills.
When installed properly, your New Construction Metal Roofs would actually not need replacement until it reaches the time when the colors start to fade. The color of your Metal Roof doesn't just necessarily relate to aesthetics, instead, it acts as some type of added material for the resistant properties of the roof.
What this means for you is that you'll only really need to have your Metal Roofing System replaced if it's already worn out by a third of its original life. Unlike asphalt roofs and clay roofs that would call for replacement just after the 25-year mark, Metal Roofs would not need it in a short while.
The key to having an undeniably strong and resistant roof is installation – and here in the city of Miami, you can bank and count on the Metal Roofing Contractor that all property owners trust, and that's none other than us here at Miami Metal Roofing Elite Contracting Group.
About Miami Metal Roofing Elite Contracting Group
Our company has been widely known as the ultimate Metal Roofing Contractor that can provide a wide range of metal roofing solutions to the residential and commercial markets. It's a privilege that we were able to work with a wide range of companies and businesses from across the entire city of Miami – and in fact, the trust that we were able to establish beats all other companies easily.
When it comes to the installation of Metal Roofing to your home or your property that's just newly built, you can lean on us and our skills at Miami Metal Roofing Elite Contracting Group. You will never be able to find a company that services at the same level as us, let alone the Free Roof Inspection and the Free Quote that we offer our clients.
Talk To Us Today!
Wherever you might be in the city of Miami, you can absolutely bank and count on us here at Miami Metal Roofing Elite Contracting Group to help you with the installation of Metal Roofing Systems to your newly built or newly constructed property or establishment.
You can reach us via email, via our hotline, or via our website by filling out the contact form that we have there. Experience working with the best Metal Roofing Contractor without actually spending tens of thousands of dollars for the particular project alone.
Whatever property you're planning to build and whatever market you are in, you can always count and rely on us here at Miami Metal Roofing Elite Contracting Group to help you! Contact us now and get the specific service you need as fast as you can!
Time to Replace Your Roof? We Can Help
Considering roofing replacement? When it comes to roofing projects, many homeowners rely on professionals to get the job done. At Miami Metal Roofing Elite Contracting Group, our specialists stick to all the industry standards when installing metal roofing on both residential and commercial properties. Therefore, you can be sure of getting a sturdy roof on top of your house. As a result, you can get the best services from our company in the following fields;
What Locations do we Serve?
Miami Metal Roofing Elite Contracting Group is a name you can trust and rely on. Our metal roofing services were limited in Miami, FL when we started. But with time our company has expanded and is now serving over ten locations within Florida.
It shows how reliable we are. Here are some places within Florida, where you can access our world-class metal roofing services: –