Miami's
Stone-Coated Steel Roofing Installation Pros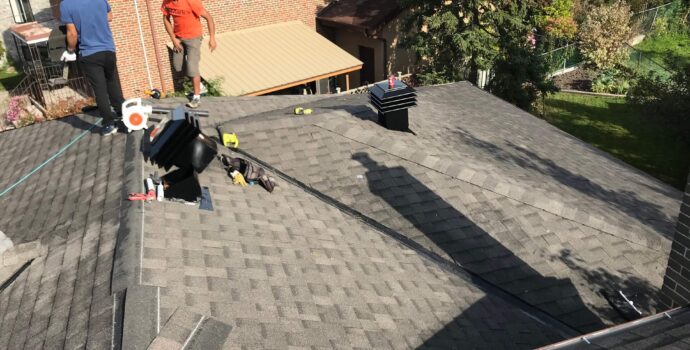 In case you're not aware, Stone-Coated Steel Roofing is one of the few, but the most sought after types of Metal Roofing Systems that is an advanced and a reinforced model of the traditional steel roofs.
If you've always known steel roofs and metal roofs, then you might have a bit of an eye-changing moment when you see steel roofs that are covered and glazed with powdered stone or abrasives. It's stylish, secured, and it's absolutely resistant to all types of wear, no matter how you look at it.
What's a Stone-Coated Steel Roof?
Since its emergence in the market, Stone-Coated Steel Roofs have been taken in and received by a ton of property owners. Because of the sophistication, the style, the design – to the strength and the functionality that it offers, you would not be disappointed by what it is.
In its simplest terms, Stone-Coated Steel Roofing is a steel roof at the core but is brazed and coated with powdered stone or abrasives. It's like a developed steel roof because of the additives of abrasives and powdered stone.
Should You Switch to Stone-Coated Steel Roofs?
Why shouldn't you? If it's something that's actually worth your money, what's holding you back from choosing Stone-Coated Steel Roofs?
Considered as the best alternative to plain Metal Roofing, here are some of the reasons why you should consider switching and shifting to Stone-Coated Steel Roofs.
Miami's #1 Stone-Coated Steel Roofing Company
Across the entire city of Miami, no other Metal Roofing Contractor can be trusted but us here at Miami Metal Roofing Elite Contracting Group. For years, we run the market for Stone-Coated Steel Roofs and we never have been beaten by any other competitor or contractor.
We've provided our clients with the service they needed, and the quality of Stone-Coated Steel Roofing they want. Being the manufacturers of our own products, homeowners can specify the roofs they want to install in their homes.
How Can You Contact Us?
In case you're wondering about how you would be able to contact us, you can do so by visiting our website and filling out the Contact Form that we have on there. Alternatively, you can also give us a quick call to speak directly to one of our representatives or to send us an email detailing the specific service that you need and the product that you want to install to your property.
There are a million ways why you should choose us here at Miami Metal Roofing Elite Contracting Group and you should never disregard it. You can bank and count on us and our team of Metal Roofing Experts and Specialists to perform the excellent quality Metal Roofing Services you need.
Work with Miami Metal Roofing Elite Contracting Group – work with the best without actually spending tens of thousands of dollars for it! You will never regret your decision of choosing us!
Time to Replace Your Roof? We Can Help
Considering roofing replacement? When it comes to roofing projects, many homeowners rely on professionals to get the job done. At Miami Metal Roofing Elite Contracting Group, our specialists stick to all the industry standards when installing metal roofing on both residential and commercial properties. Therefore, you can be sure of getting a sturdy roof on top of your house. As a result, you can get the best services from our company in the following fields;
What Locations do we Serve?
Miami Metal Roofing Elite Contracting Group is a name you can trust and rely on. Our metal roofing services were limited in Miami, FL when we started. But with time our company has expanded and is now serving over ten locations within Florida.
It shows how reliable we are. Here are some places within Florida, where you can access our world-class metal roofing services: –