Miami's
Corrugated Metal Roof Contractors & Installers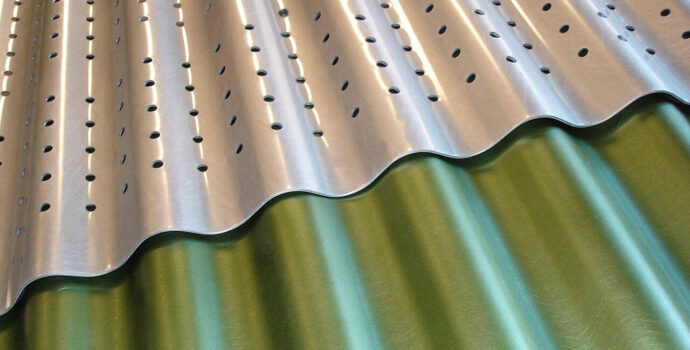 Though Corrugated Metal Roofing is best for a flat types of roofs and structures, it also is beneficial for other types and kinds of roofs as well. This type of metal roofing can be installed starting from low pitch roofs to sloping roofs.
Corrugated Metal Roofing utilizes corrugated sheet metal panels held together by exposed fasteners. This metal roofing is often installed in barns as well as the residential and commercial building types as well.
They can be fashionable too! In fact, this roofing system can cater according to your chosen aesthetic. They range from traditional to modern designs as how you desire them to look.
Benefits of Corrugated Metal Roofing
To start, it can withstand all types of weather and climates. They are able to endure heavy snow accumulation, outpouring rains, strong winds, and etc. Due to its unique material effectively guiding the water off of the roof, the risk of having water or snow accumulation is nonexistent.
Corrugated Metal Roofing as such is leak-proof unlike roofing shingles, which are prone to leaking. They help keep the rest of the buildings dry. However, a proper installation must be followed to ensure this. This metal roofing is durable which helps them last longer. Its signature shape is what makes them lightweight but durable.
This is because Corrugated Metal Roofing utilizes corrugated metal sheets, or the folding of the material in order to create ridges and grooves. The wavy construction thereof helps to strengthen the material more. Their durability makes them fireproof as well. Even better, this type of roofing is environmental-friendly. The material can be 100% recycled. This type of roofing can also cut off your cooling costs. Corrugated Metal Roofing helps repel and deflect heat instead of absorbing it.
With all these benefits, it makes you think if it's really hard to install. But the good news is that it is not. Thanks to its lightweight material, you won't have to use a lot of material for structural support. We, in Miami Metal Roofing Elite Contracting Group, will ensure you get every cent of your money with our services. Not only we will help you with the proper installation of Corrugated Metal Roofing, but we will also cater to your needs as to how you would like the roofing to be styled. May they be traditional or modern, we got you!
Different Materials for Corrugated Metal Roofing
Corrugated Metal Roofing is commonly available in copper, aluminum, and stainless steel. These three differ in appearance, cost, and durability. Corrugated aluminum roofing is the most popular choice in terms of quality and value. They are the preferred choice in residential settings because of this. Aluminum roofing is also durable, rust-resistant, and better-looking.
Corrugated steel roofing, on the other hand, features a natural gray finish on their sheets. This will work if you are not really concerned with aesthetics. However, not everyone seems to be a fan of this. More than that, this roofing is the more expensive option than the previous two. Likewise, corrugated copper roofing is the most expensive one. This roofing is easy to install and naturally resistant to rust. Corrugated Metal Roofing uses different coatings as well. Ceramic and epoxy coatings are the standard ones. But new materials have been innovated through the years.
Polyester and acrylic coatings have caused issues with corrosion and fading. This is why we use the newer generation of roof coatings like Kynar 500 here at Miami Metal Roofing Elite Contracting Group. If you have decided on the choice of your Corrugated Metal Roofing, feel free to contact us in the Miami Metal Roofing Elite Contracting Group. We can help you with our wide variety of options as well as offer you advice on what will suit your home best. We will ensure you get nothing but the best of our services here in Miami Metal Roofing Elite Contracting Group.
Disadvantages of Corrugated Metal Roofing
Despite all these benefits, they still come with their own disadvantages. The occasional denting or bumping can still be experienced with Corrugated Metal Roofing especially if the material used is not of quality. However, the biggest drawback is its cost. Although Corrugated Metal Roofing lasts for decades, the cost of installation is expensive. The cost may start from $160 to $650 per 100 square feet. They are more expensive than other roofing options.
Worry not, however, because Corrugated Metal Roofing does not require high maintenance. Once you have it installed, it is almost set for the next couple of years. These are its only disadvantages. As you can see, there are more benefits to this than disadvantages.
Contact for Installation and Advice
As always, proper installation must be observed with Corrugated Metal Roofing. It may be expensive at first, however, its maintenance cost is relatively low. To ensure this, the roofing must be installed by someone or a company that knows how to do their job well. We in Miami Miami Metal Roofing Elite Contracting Group will do our best to provide you and your home the quality as well as the security it needs.
We will make sure to have the Corrugated Metal Roofing properly installed so you will not have to worry about its maintenance. Likewise, in Miami Metal Roofing Elite Contracting Group, we will cater to your every need from the material, coating even to the colors and design. We ensure to tailor the Corrugated Metal Roofing as how you imagined it. The problem with having to Install Corrugated Metal Roofing yourself is the hassle and uncertainty of safety. Safety protocols will also be strictly observed. Fall-restraint harnesses and safety lines will be used including safety goggles. So do not worry about anything!
Our staff members have been expertly trained as well with the process of installation. Why else would we be the best? We can also offer our services at the lowest fee possible. This, of course, takes precedence in the financial state of our clients. So do not hesitate and feel free to contact us at Miami Metal Roofing Elite Contracting Group. After all, we have been at the beck-and-call of numerous homeowners as well as commercial project owners. Us in Miami Metal Roofing Elite Contracting Group walk our talk.
Time to Replace Your Roof? We Can Help
Considering roofing replacement? When it comes to roofing projects, many homeowners rely on professionals to get the job done. At Miami Metal Roofing Elite Contracting Group, our specialists stick to all the industry standards when installing metal roofing on both residential and commercial properties. Therefore, you can be sure of getting a sturdy roof on top of your house. As a result, you can get the best services from our company in the following fields;
What Locations do we Serve?
Miami Metal Roofing Elite Contracting Group is a name you can trust and rely on. Our metal roofing services were limited in Miami, FL when we started. But with time our company has expanded and is now serving over ten locations within Florida.
It shows how reliable we are. Here are some places within Florida, where you can access our world-class metal roofing services: –